Zen-O lite™
PORTABLE OXYGEN CONCENTRATOR
Zen-O lite™ delivers up to 1050 ml of oxygen in pulse mode and is adjustable in 0.5 increments up to setting 5. The unit automatically adjusts the amount of oxygen delivered to meet the patient's breath rate. It has easy to understand intuitive buttons and LCD panel for straightforward operation.
Weighing just 5.5lbs, Zen-O lite™ can be used in the comfort of a patient's home and is ideal for use outside the home, offering unequalled independence and flexibility to patients that require supplemental oxygen therapy. Zen-O lite™ is designed with easily replaceable sieve modules. These modules can be replaced in under 5 minutes by either the user or home oxygen provider. A system indicator flashes each time a breath is detected during use, giving users the assurance that oxygen is being delivered.
Zen-O lite™ is designed with various audible and visual alarms, to prompt the user of a required action. Zen-O lite™ is built to last and is supplied with a 3-year warranty. The battery, sieve tubes and other accessories have a 1 year warranty.
Suitable for air travel, the Zen-O lite™ is manufactured in the USA to the exacting standards of the United States Food and Drug Administration and the US Federal Aviation Administration.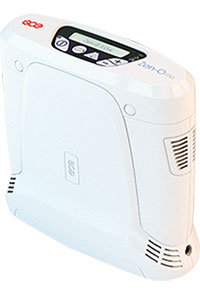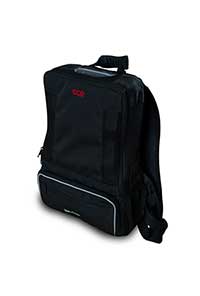 Accessories available for Zen-O lite™ PORTABLE OXYGEN CONCENTRATOR
| | |
| --- | --- |
| RS-00608-G-S | Zen-O lite™ portable concentrator with one 8 cell battery |
| RS-00608-G-D | Zen-O lite™ portable concentrator with two 8 cell batteries |
| RS-00601 | Zen-O lite™ rechargeable battery |
| RS-00602 | Zen-O lite™ AC power supply w/EU cord |
| RS-00603 | Zen-O lite™ AC power supply w/UK cord |
| RS-00604 | Zen-O lite™ AC power supply w/US cord |
| RS-00605 | Zen-O lite™ DC adapter |
| RS-00606 | Zen-O lite™ carry bag |
| RS-00619 | Zen-O lite™ rucksack |
| RS-00617 | Zen-O lite™ cannula wrench |
| RS-00616 | Replacement sieve modules (pair) |
| RS-00512 | Zen-O lite™ cannula filter pk of 10 |
| RS-00517 | Zen-O lite™ external battery charger - UK |
| RS-00515 | Zen-O lite™ external battery charger - US |
| RS-00516 | Zen-O lite™ external battery charger - EU |
| RS-00523 | Accessories bag |
Battery life for Zen-O lite™ (approximate)
| | |
| --- | --- |
| Pulse 1.0* | 4:00 |
| Pulse 2.0* | 4:00 |
| Pulse 3.0* | 3:00 |
| Pulse 4.0* | 2:15 |
| Pulse 5.0* | 2:00 |
* 18 breaths / minute