Zen-O™
PORTABLE OXYGEN CONCENTRATOR
Zen-O™ offers patients the best of both worlds. Patients can alternate between continuous flow and pulse mode oxygen therapy. Designed with patients in mind, it is simple to use with intuitive button operation and LCD display.
Using advanced patented technology, Zen-O™ can deliver up to 2 Liters per minute of oxygen in response to the patient's need. Unlike other devices that deliver a fixed amount of oxygen, Zen-O™ automatically increases the amount of oxygen delivered if a patient's breath rate rises.
Zen-O™ is rugged and is supplied with a 3 year warranty or 15,000 hours of total use, as well as a 3 year warranty on the sieve beds giving you the assurance of quality and reliability. It has been designed with sieve beds that can be replaced easily by most homecare providers without the need to return the device to the manufacturer.
The device is designed with various audible and visual alarm prompts such as low battery, no breath detected, service required and low oxygen purity.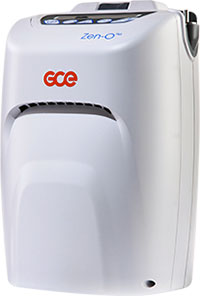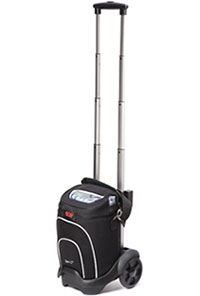 Accessories available for Zen-O™ PORTABLE OXYGEN CONCENTRATOR
| | |
| --- | --- |
| RS-00501 | Zen-O™ battery 12 cell |
| RS-00509 | Zen-O™ carry bag |
| RS-00507 | Zen-O™ cart |
| RS-00508 | Zen-O™ DC adapter |
| RS-00511 | POC filter wrench |
| RS-00512 | POC cannula filter pack of 10 |
| RS-00513 | Sieve bed assembly |
| RS-00515 | External battery charger – US |
| RS-00516 | External battery charger – EU |
| RS-00517 | External battery charger – UK |
| RS-00520 | Zen-O™ AC power supply with EU cord |
| RS-00521 | Zen-O™ AC power supply with UK cord |
| RS-00522 | Zen-O™ AC power supply with US cord |
| RS-00523 | Accessories bag |
Battery life for Zen-O™ (approximate)
| | | |
| --- | --- | --- |
| Pulse 1.0* | 4:00 | 8:00 |
| Pulse 2.0* | 4:00 | 8:00 |
| Pulse 3.0* | 3:00 | 6:00 |
| Pulse 4.0* | 2:15 | 4:30 |
| Pulse 5.0* | 2:00 | 4:00 |
| Pulse 6.0* | 1:45 | 3:30 |
| Cont 0.5 | 3:00 | 6:00 |
| Cont 1.0 | 1:45 | 3:30 |
| Cont 1.5 | 1:15 | 2:30 |
| Cont 2.0 | 0:45 | 1:30 |
* 18 breaths / minute